The Digital Garden of Good and Evil
We're on a crash course with the world's first trillion-dollar company and the first trillionaire.
We're on a crash course with the world's first trillion-dollar company and the first trillionaire.
Both hail from the technology sector — Apple Inc. (AAPL) and Jeff Bezos, the head of online retailing juggernaut Amazon.com (AMZN).
That's no coincidence.
Emerging technologies that seemed like a fantasy a decade ago are fast becoming a reality today. In the process, enormous amounts of wealth are being created.
Clearly, then, as investors, we can't afford to miss out on this historic wealth grab, right?
Or can we? And more pressingly, should we?
Tech Gets a Dose of Morality
"The Internet, and technology in general, have provided new ways for wrath, lust, gluttony, sloth, pride, envy and greed to insert themselves into our lives."
— Mike Dover, Dante's Infinite Monkeys: Technology Meets the 7 Deadly Sins.
Yes, technology has become the epicenter of wealth creation. But did you ever stop to think that not all technology — and, therefore, not all profits earned from technology investments — is good?
Or more simply, is some technology evil?
Before you flippantly discard my inquiry, consider that I'm a technology investor and analyst.
My livelihood depends on finding, investing in and sharing new technology opportunities. So this isn't a self-serving exercise.
On the contrary… convincing you to look at the world this way could directly and negatively impact my bottom line.
Also consider that the bar to qualify as "evil" isn't necessarily as high as you probably think.
Merriam-Webster defines evil as simply "causing harm."
I'm certain we can all think of technologies that cause harm. Some overtly… others covertly.
If you're still hesitant to entertain the notion that all technology investing isn't good, consider the words of much smarter men than I as they warn us about one of the most promising emerging technologies of our day — artificial intelligence.
Famed physicist Stephen Hawking told the BBC, "The development of full artificial intelligence could spell the end of the human race."
Meanwhile, billionaire Elon Musk likens artificial intelligence to "summoning the demon." He says it's "our biggest existential threat."
Do you want any part of investing in such a technology? Even if you did, it would be hard to spend the profits if we no longer existed. So your gains would be useless. But I digress.
Getting back to the issue at hand, some will argue that technology can't be evil because it's simply a tool. Therefore, like money, it's amoral. It only serves to amplify the good or evil of the one wielding the tool. In this case, humans.
That's true. But it's also true that every tool has an overarching purpose — and, in turn, an embedded morality.
For instance, a wheelchair is explicitly designed to assist someone. Whereas an AR-15 is explicitly designed to kill someone. We can't detach the good nature from the first or the evil nature from the second, no matter how hard we try.
Why am I bringing all of this up? Because I believe it's an increasingly urgent matter.
Slimmer Margins for Error
A convergence of advancements in miniaturization, processing power, materials sciences, bandwidth and storage, to name a few, are conspiring to accelerate innovation and adoption of new technologies.
Take a look.
It used to take decades for a new technology to achieve 25% market penetration. Now it takes less than five years. Undoubtedly, that figure is going to keep going lower and lower.
What does this mean?
Well, our forefathers had time to digest and process the potential evils of new technologies – because these innovations were slow to take root in everyday life.
But now we're living in a time when new technologies are being developed and adopted at a faster rate than ever. Time is no longer a luxury we possess to exhaustively explore the potential good and evil of every innovation.
If we don't figure out where we stand on the front end, we're locked into paying the consequences on the back end.
There's no hitting the brakes once a new technology gains enough momentum.
Once the first robot starts thinking for itself and decides it wants full autonomy, it's over. There's no putting that genie back in the bottle. We're putting all humans in a casket.
Again, we need to define the boundaries in advance.
For those who insist that we can't possibly agree on a universal morality as a society, you're wrong.
There might be finer and grayer points that are impossible to reconcile. However, religious luminaries, as well as secular thought-leaders agree — we've all been imprinted with an inherent morality. So there are definitive goods and evils we can all agree on, no matter our background.
The Moral and Financial Challenge
To be clear, I'm not writing today to protest progress. I'm challenging us to ponder the morality of progress and the potential pitfalls before it's too late.
Of course, first, you need to decide if this is an issue worth consideration. Then, you must figure out what you believe. And that's where I'm (hopefully) going to come in.
In the coming weeks and months, we're going to dedicate time to explore these issues for a growing list of emerging technologies — including artificial intelligence, drones, robotics, cryptocurrencies, virtual and augmented reality, gene editing, cybersecurity and brain interfaces.
(If you have any specifics you'd like us to evaluate, let us know here.)
Whereas the mainstream financial press only considers the wealth-producing power of these advancements, we're going to focus on the threats and the opportunities. Both direct and indirect, in the present and in the future.
So yes, you'll still be receiving a healthy dose of technology investment ideas from us. But you'll also be receiving another perspective on them.
And as Marvin Minsky, co-founder of the MIT Artificial Intelligence Laboratory, says, "You don't really understand something if you only understand it one way."
We're not going to try to arrive at any definitive answers, mind you. Instead, our overarching goal is to provoke you to seek answers — and then act and invest accordingly.
If you think this is all a pointless exercise because we don't (or can't) have any impact as individuals, think again!
Beyond investors, we're consumers of all this technology. Without customers, there's no way for a business to survive or a technology to endure.
In other words, every time we decide to tweet, snap, buy a smartphone, hail an Uber — any interaction we have with tech on a daily basis — we're enabling technological progress and, in some cases, evil.
By the same token, we can impede this progress and redirect it in more appropriate directions.
And there's tremendous power in our collective efforts to have a direct and lasting impact.
Bottom line: We have the ability — and the responsibility — to impact tomorrow. We're going to start taking these abilities seriously here. Ultimately, instead of interrupting our pursuit to increase our bottom lines, it should enhance it.
Ahead of the tape,
Louis Basenese
Chief Investment Strategist, Wall Street Daily
Did you know trading options can actually be safer and more profitable than buying and selling stocks? Video and plain English training guide reveals how to get started tonight. 100% free.

Download now.
Here's an Investment You Should Not Forget About
It's pretty near impossible to build a growth portfolio without a very large weighting of technology stocks.
Original Link : Investing Daily
It's pretty near impossible to build a growth portfolio without a very large weighting of technology stocks. Look at any actively traded ETF containing the major tech companies like Apple (Nasdaq: AAPL), Amazon (Nasdaq: AMZN), Alphabet (Nasdaq: GOOG), Microsoft (Nasdaq: MSFT), and Facebook (Nasdaq: FB), and you are looking a collection of stocks that has vastly outperformed the major market averages over the past one-, five-, and 10-year periods.
All of these stocks have strong fundamentals and near monopolies or at least leading market shares within their realms. They will maintain this grip unless the government decides to step in (some whispering about this lately but nothing more) or the companies run into major competition from Chinese counterparts.
Moreover their valuations while not cheap are not frothy, either. In contrast to 2000, when Cisco (Nasdaq: CSCO) was trading above 100 times earnings, not even Amazon trades at a forward P/E of about 60, with growth in the mid-20s likely over at least the next several years. Amazon's free cash yield is positive, about 3.5 percent based on expected 2018 values, and growing faster than earnings.
But we're not here today to praise these great tech companies but to offer an alternative, an investment that in the long run may have more potential and where you don't have to worry about government interference or Chinese competition. No, we haven't discovered some miracle stock – rather, we're talking about a miracle metal. It's one that is vital in almost all technologies and that is running up against supply constraints just as the demand for technology, from blockchains to artificial intelligence to the Internet of Things, may be on the verge of a major extended growth phase.
Moreover, this miracle metal offers not just a way to play on tech but is also prized because it is inherently beautiful, resistant to oxidation, and a wonderful hedge against inflation. We are, you may have guessed, talking about silver. Silver, which has been used as currency for at least as long as gold – many thousands of years – is still valued as a monetary investment, with about 40 percent of yearly demand coming from investors. But the other 60 or so percent comes from its many industrial uses, which are on the threshold of accelerated growth.
In the 1980s no less an investor than Warren Buffett became the world's largest holder of silver. Once it became news that he had amassed such a large position, he stopped reporting his silver holdings and presumably sold them. Still, Buffett's rationale for buying the metal holds true today, to an even greater extent.
Buffett said he was buying silver because demand for the metal consistently exceeded supply. Silver has a number of remarkable properties that make it a critical part of many industrial applications. The metal is the world's best electrical conductor – even better than copper – and also the world's best conductor of heat. And as mentioned above, it is relatively nonreactive with oxygen, which is a major reason the metal maintains its properties over time.
This combination of characteristics has made silver an essential industrial and technology metal. The keyboard I am using to write these words has silver. My smartphone may have 0.35 grams of silver, and if I lived in a house that used solar power, silver would be critical to the photovoltaic modules providing my electricity. The auto I drive may have as much as 2 to 3 ounces of silver, depending on how many connections it has and the type of windshield heater.
The point is that silver's properties, because they are simultaneously singular and critical, translate into many uses. And in world in which technology is becoming more pervasive; in which solar has become the fastest-growing renewable energy; and in which the number of nano-connections among objects is multiplying, the industrial demand for silver is certain to surge.
Right now, as has been true since at least the 1980s, demand for silver exceeds supply, and prospects for additional supply are limited. As I pointed out in a recent interview, above-ground stocks of silver – bars and coins purchased for investment purposes – have mostly accumulated in custodian vaults. The bulk of these supplies, around 1 billion ounces, or a year's worth of production, is held in China.
Rather than use these supplies to make up for the current supply/demand deficit, it's likely that China will continue to accumulate the metal. That's because the country, with its megacities that go hand in hand with a burgeoning Internet of Things, its massive AI projects, and other technologies that have begun to drive the economy, will want to have on hand as much as possible of the silver that these technologies depend on.
The bottom line is that over the next several years, silver is likely to be in extremely short supply. I would not be surprised to see the metal climb to three digits by the early part of the next decade, and I sincerely doubt that you will find many tech stocks that will outperform.
Did you know trading options can actually be safer and more profitable than buying and selling stocks? Video and plain English training guide reveals how to get started tonight. 100% free.

Download now.
This Popular Retirement Advice Will Leave You 76.2% Broke
How much money do you need to retire on dividends alone?
This is a better question to ask than the typical "magic number" formula that most "first-level" thinking firms tout. Let's review why their approach is fatally flawed, so that we can derive a more reliable method of our own based in actual reality (and funded by actual dividend payments.)
Fidelity Says What?
You should aim to have 10 times your final salary in savings.
But why? I suppose they are claiming that, if you earned $100,000 in your final year working, that you'll want to earn this much in income every year for the rest of your life.
So, Fidelity says save a million bucks and you're in good shape.
But how exactly is $1,000,000 supposed to throw off $100,000 in excess income annually?
Fidelity's Strategic Dividend & Income Fund (FSDIX) pays 2.38% today. Which means, if you follow their advice to a tee, and buy their flagship income fund, you are earning $23,800 per year in income from your million-dollar stake.
That's a start. But where exactly is the other 76.2% of you income supposed to come from?
Apparently this is up to us to figure out, because we've run out of sage advice from this respected investment firm. So let's see if we can piece together a full retirement ourselves.
Shall We Also Withdraw 4% Annually?
We saved a million like they said, and we're earning less than our neighborhood coffee barista. I presume we're now supposed to sell shares to make up the difference. Most mainstream-following financial advisors say that we can sell 4% of our portfolio annually for income, so let's try this.
FSDIX has returned 7.54% annually since inception, so a 4% yearly drawdown appears sustainable. However, we see three glaring pitfalls.
First, another 4% means another $40,000 per million for a total of $63,800. Still not what we are looking for.
Second, this particular fund has underperformed the S&P 500 over the last year, three years, five years and ten years. It's also underperformed the broader market since inception (2003).
So what exactly was the point of buying a dividend fund when we were going to have to sell shares anyway? And see them appreciate less than a dumber, cheaper index fund?
FSDIX (Purple Bar) Underperforms – Always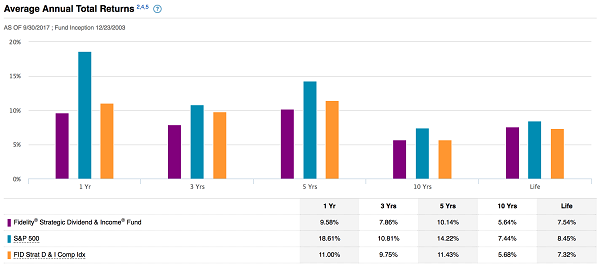 More concerning than mere mediocrity, however, is the threat of "reverse dollar cost averaging." Peak to trough in 2008, FSDIX lost 59% of its value. If you're selling stock for income, you're selling more and more at lower and lower levels:
You Don't Want to Be Selling Here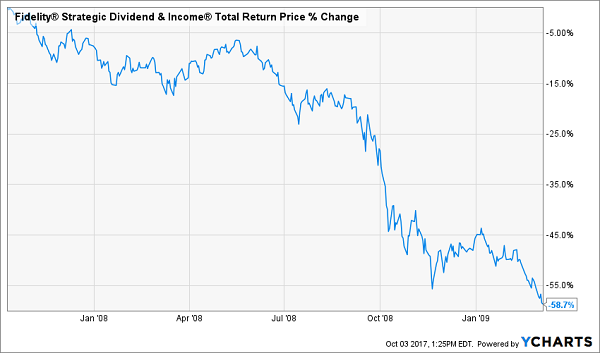 By July 2012, FSDIX investors who bought at the 2007 peak – and held 100% of their shares – had grinded their way back to even.
Buy who actually buys and holds? In reality, there are two types of investors:
Those who bought during 2008, 2009, and 2010. They made money much sooner, because they were able to buy low.
Those who sold during the downturn. Whether they had to sell for income, or simply got scared – many of these portfolios have still not recovered.
Back to Even (But Most Did Much Better, or Much Worse)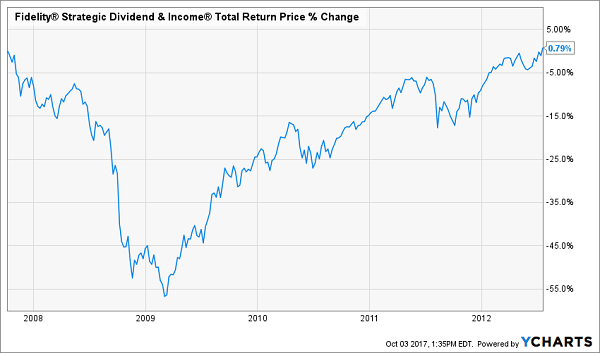 Dollar cost averaging is a powerful force. Make sure it's working for you, rather than against you. Here's how.
Fade the 4% Fallacy for a Smarter "Magic Dividend Number"
Our retirement approach is grounded in reality versus fantasy and false math. So, let's begin with the value of your actual portfolio.
Back to the $1 million example. Let's say we saved that money like Fidelity said to, and we still want $100,000 per year.
We'll ditch the flawed notion of selling capital for income, and live on dividends alone. This means our portfolio's "magic yield" is 10% annually.
But today, there's only one safe 10% yield left on the board. And I wouldn't recommend putting your entire portfolio in only one issue, no matter how sound its payout seems.
So, we're faced with a decision. We can:
Settle for less income, or
Save (or make) more money.
While I wouldn't recommend an entire portfolio of double-digit payers, I do like seven stocks (and funds) yielding an average of 8.3% today.
Their dividends are safe, and believe it or not, their prices are a bit undervalued to boot. This means we should enjoy price upside as well, and achieve 10%+ annual returns on these dividend machines.
Let's talk more about these income plays, because you should be tuning out the "first-level" pundits – those who do little or no original thinking – and replacing your underperforming payers with these meaningful (and safe) 8.3% yields.
3 Ways to Safely Bank 8.3% Dividends
Most of the stocks you read about in the mainstream media that pay 5% or better are train wrecks. They have big stated yields for the wrong reason – namely, because their prices have been axed in half or worse over the past year!
For example, retailer Macy's (M) pays 7.2% on paper. But its business model is toast. Next quarter's payment may happen, but that's a risky game I'm not willing to play.
Instead, I'd rather look in corners of the income world that aren't combed over as regularly. There are three in particular that I like today. You won't hear about them on CNBC, or read about them in the Wall Street Journal, because they don't buy advertising like Fidelity and other firms.
Their relative obscurity is great news for us 8.3% dividend seekers.
Play #1: Closed-End Funds
If you feel trapped "grinding out" dividend income with classic 3% payers (like dividend aristocrats), you can double or even triple your payouts immediately by moving to closed-end funds, or CEFs. In fact, you can often make the switch without actually switching investments.
I'll discuss my favorite CEFs in a minute.
Play #2: Preferred Shares
Not familiar with preferred shares? You're not alone – most investors only consider "common" shares of stock when they look for income.
But preferreds are a great way to earn 7% and even 8% yields from the same blue chips that only pay 2% or 3% on their "common shares."
I'll explain preferreds – and my favorite tickers to buy – after we finish our high yield hat trick.
Play #3: Recession-Proof REITs
The IRS lets real estate investment trusts, or REITs, avoid paying income taxes if they pay out most of their earnings to shareholders. As a result these firms tend to collect rent checks, pay their bills and send most of the rest to us as a dividend. It's a sweet deal.
Not all REITs are buys today, however – landlords with exposure to retail space should be avoided.
That's easy enough to do. I prefer to focus on REITs that operate in recession-proof industries only. I want to receive my rent check powered dividends no matter what happens in the broader economy.
Now let's discuss how you can get a hold of my complete "8.3% No Withdrawal Portfolio" research today, along with stock names, tickers and buy prices. Click here and I'll share the specifics – and all of my research – with you right now.
Did you know trading options can actually be safer and more profitable than buying and selling stocks? Video and plain English training guide reveals how to get started tonight. 100% free.

Download now.
This Trump Trade Will End in Disaster
Regardless of all of the noise, the so-called smart money is saying this trade is back on…
At least that's what the so-called smart money is saying…
While the White House can't boast about any major political wins related to tax cuts or infrastructure spending yet, investors are once again bidding up the stocks and sectors that follow Trump's growth-focused agenda.
The materials and finance sectors are both resting near year-to-date highs after enjoying strong September rallies. But another one of these rising Trump trades is headed for disaster in the years ahead. Regulation rollbacks, subsidies or other hair-baked political schemes can't save it from a painful demise.
But that doesn't mean we can't book short-term gains as a dead cat bounce lifts the coal industry from its lows.
"The EPA and no federal agency should ever use its authority to say to you we are going to declare war on any sector of our economy," EPA head Scott Pruitt told a crowd in Kentucky yesterday.
The war on coal is over, Pruitt said. But if this administration thinks it can permanently revive the dying coal industry by cutting some regulations, they're in for a surprise.
Even in developing nations, coal is losing its appeal as a cheap power source. In fact, world coal production just endured its biggest drop of all time earlier this year. Coal demand in the U.S. dropped by more than 33 million tons last year, Bloomberg reports, while global coal consumption dropped 1.7%, falling in every continent except Africa.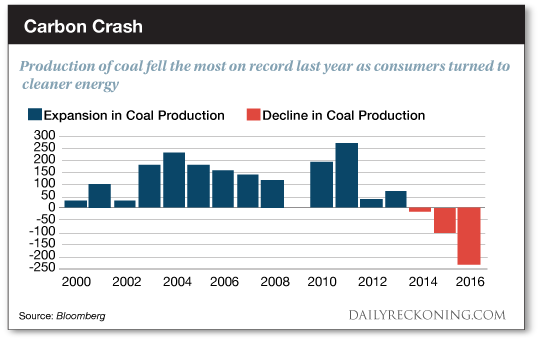 Across the globe, the coal industry is dying. The industry is teetering on the brink as most of the developed world moves on to cleaner energy sources. And in an age of cheap and plentiful natural gas, coal would have trouble staying in play even if we tossed every regulation out the window.
But Trump is still trying to flip the script.
In late March, Trump signed an executive order aimed at rolling back Obama-era rules curbing carbon emissions. Specifically, Trump's order requires the EPA to repeal the Clean Power Plan, a hefty set of rules imposed on coal power plants.
The White House framed the executive order as a move to bolster the country's energy independence and restore coal mining jobs. The news even provided a temporary boost to coal mining shares.
Trump has helped juice the VanEck Vectors Coal ETF (NYSE:KOL) not once but twice on so-called bullish news. The first peak materialized when Trump was elected. And the most recent climax materialized after the Clean Power Plant repeal back in April. The coal ETF's spring slide gave even produced a quick 15% correction.
But coal started sneaking higher once again over the summer. By August, KOL had pushed to prices not seen since late 2014. After consolidating these gains over the past several weeks, coal looks ready to make and fourth-quarter run.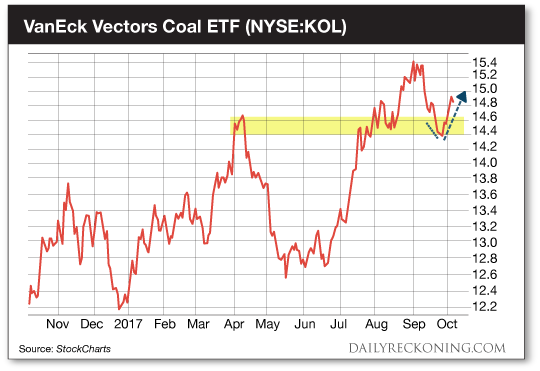 The stock market's biggest moves rarely play out as perfectly as the stories we read in the finance pages.
Remember, the day of Trump's victory was the exact top of coal's 2016 rally.
That's right — coal made its big move before Trump took the White House. The big energy winner of 2016 wasn't oil, gas, or solar. It was coal. The sooty stuff finished the year with a gain of 98%. That's almost a clean double from one of the world's dirtiest energy sources. And the rally started months before anyone was seriously talking about Trump winning the White House.
Once again, counterintuitive market moves stump traders who think they can trade political headlines. Investors knew Trump campaigned in favor of coal jobs and deregulation. But that didn't change the fact that the coal rally needed a break.
Coal has badly burned the headline traders over the past 12 months. But if you follow price, you stand a fighting chance at walking away with substantial gains.
We've enjoyed some success playing coal's crazy moves recently. We took profits on a short-term coal play back in December 2016 for a 40% gain. Then we attempted to play the March breakout to new highs (the market immediately stopped us out when it reversed).
Now coal is setting up for a big move again. We want to take another run at this play and grab the gains while we still can.
In the grand scheme of the markets, coal's comeback move is probably nothing more than a dead cat bounce. But we're more than happy to take the ride if it can hand us double-digit gains. That's a distinct possibility if KOL can push above its September highs.
Trump can't save coal. No one can. But that doesn't mean we can't profit from a quick trade…
Sincerely,
Greg Guenthner
for The Daily Reckoning
Did you know trading options can actually be safer and more profitable than buying and selling stocks? Video and plain English training guide reveals how to get started tonight. 100% free.

Download now.