10 Products Apple Has Killed Over The Years
Original Link
| InvestorPlace
There's a lot of excitement swirling around the iPhone event Apple Inc.(NASDAQ:AAPL) is holding on Sept. 12.
The day is expected to send AAPL stock to new highs, with the launch of the 10th anniversary iPhone 8 and iPhone 7s.
There's also a good chance we'll see a new Apple TV with 4K and HDR support, and a new Apple Watch Series 3 with cellular connectivity. Then in December, the iMac Pro and HomePod smart speaker arrive. Talk about a blowout holiday quarter!
What's gotten a little less attention is the fact that just a few days ago, Apple quietly axed its popular annual iTunes Music Festival.
After a decade of boosting music and its iTunes business, the iTunes Music Festival joins a long list of products and services Apple discontinued — sometimes in their prime. As we prepare for the launch of a slew of new devices bearing the Apple logo, here's a nod to 10 of its own products Apple killed over the years.
Products Apple Killed: iPod Nano and iPod Shuffle
Let's start with two of the most recent victims: the iPod Nano and iPod Shuffle.
On July 27, Apple's website showed the iPod Touch, but the iPod Nano and iPod Shuffle were conspicuously missing. An Apple representative told Business Insiderthat "Today, we are simplifying our iPod lineup," leaving only the iPod Touch.
When Apple discontinued the Nano and Shuffle, it effectively killed off the music-only iPod (the Touch is essentially a hobbled iPhone), a class of products that once sold over 22 million units a quarter.
Products Apple Killed: The Newton
A long time before the iPhone, iPad and iPod, Apple had another handheld device: the Newton.
First released in 1993, the Newton had a lot of fans (I still have one in my desk drawer). However, Apple's personal digital assistant (PDA) had ambitions beyond the technology available at the time and it became infamous for its sketchy handwriting recognition.
When Steve Jobs returned to Apple in 1997, the Newton was his first major victim and Apple discontinued the Newton in 1998.
Products Apple Killed: iPod Hi-Fi
Smart speakers are ramping up to be a killer product category. There is considerable buzz building around the new HomePod, the Siri-powered smart speaker Apple will release in December to take on the reigning champ Amazon Echo from Amazon.com, Inc.(NASDAQ:AMZN).
A lot of people forget that this isn't the company's first go at a premium speaker system. Just over a decade ago, the $349 iPod Hi-Fi was released to "redefine the home stereo."
The iPod Hi-Fi lasted just over a year and a half. Apple axed it in 2007 after its high price and reliance on a physical iPod dock was crushed by cheaper Bluetooth wireless speakers.
Products Apple Killed: 11-inch MacBook Air
A year ago, rumors were swirling that Apple was thinking about killing the 11-inch MacBook Air. Doing so would mean eliminating its smallest and most affordable laptop — a student favorite — and a computer that remained a big seller for the company despite its aging design.
It turns out the rumors were correct.
At the end of October, new MacBook Pro models were announced, but at the same time Apple discontinued the 11-inch MacBook Air. This move was another classic example of AAPL ruthlessly trimming its own product line in order to push sales of newer models.
Products Apple Killed: QuickTake 100
The iPhone is often blamed for the death of the point-and-shoot digital camera. And with the dual camera system introduced with the iPhone 7 Plus, it seems like Apple has DSLRs in its sights too.
But did you know that Apple once made a digital camera?
Believe it or not, the company was actually a digital camera pioneer. The QuickTake 100 was among the first digital cameras aimed at the consumer market when it hit shelves in 1994.
Despite being early to the scene, the deck was stacked against the QuickTake 100 — it cost $749, images were just 640 x 480 pixels and its internal storage held just a handful of photos. AAPL released a few more QuickTake versions before exiting the digital camera business in 1997.
Products Apple Killed: Airport Routers
Apple had a long history of providing high performance, easy to use and visually attractive wireless routers.
They were especially popular with Mac fans and they were considered an integral part of the Apple ecosystem that kept people buying Macs, iPhones, iPads and Apple TVs.
With a growing rush by consumers to adopt first 802.11ac and then mesh Wi-Fi systems, the time seemed right for Apple's Airport routers to be refreshed in 2016 to take advantage of the replacement cycle.
Instead, last November Apple axed its Airport product line and exited the router business altogether.
Products Apple Killed: Power Mac G4 Cube
The Power Mac G4 Cube was a precursor to Apple's current high performance Mac desktop, the Mac Pro.
The G4 Cube was meant to make a statement. It was small for a desktop PC, with an upright form factor (a little too tall to be an actual cube), in a striking see-through acrylic case and featuring a silent, fan-less design.
The current Mac Pro makes a similar statement, although it's a black cylinder instead of a clear cube, but many of the complaints about the Mac Pro were also made about the G4 Cube. Namely, that it was too expensive and too difficult to upgrade.
AAPL discontinued the Power Mac G4 Cube after just a year on shelves, in 2001.
Products Apple Killed: Printers
One of the keys to the success of Apple was the combination of Macintosh computers and LaserWriter laser printers that helped drive the desktop publishing revolution.
Apple released dozens of printers over the years, from dot matrix printers, to the highly successful LaserWriters and then a line of affordable, consumer-focused Stylewriter inkjet printers.
There was never any big money in selling printers (most companies make their money with the ink) and with traditional printer companies also selling to Mac users — ensuring the Mac wouldn't be left without a viable printer option — Apple killed its printer business in 1997.
Products Apple Killed: The Pippin
When Apple introduced the 4th generation Apple TV in 2015, one of its big selling points was an App Store and the ability to play games on your television.
The move leveraged all those mobile games released for iPhones and iPads, in an attempt to turn the Apple TV into not just a video streamer, but a game console.
It hasn't turned into an Xbox killer yet, but the Apple TV has done better than Apple's first foray into video game consoles. The Pippin was based on Macintosh architecture and licensed to partners like Bandai. Launching in 1996 for $599, the Pippin was expensive, lacked games and was discontinued by Apple in 1997.
Products Apple Killed: Apple Monitors
2016 was a tough year for products that Apple decided were no longer part of its core business. The smallest MacBook Air and its Airport router business were axed last year.
So was another of the company's longest-running product lines. When Apple discontinued the Thunderbolt Display in 2016, the move marked the end of an era. And the first time in decades that Mac owners couldn't buy an actual Apple display to go with their Mac computer.
The Thunderbolt Display's demise showed that nothing is sacred if Apple is looking to make cuts.
When the company shows off the latest iPhones and other new products on stage, you can bet it's also looking at where the axe will fall next. The 13-inch MacBook Air, iPad Mini and Mac Mini are all rumored to be possible candidates.
As of this writing, Brad Moon did not hold a position in any of the aforementioned securities.
Facebook Thinks You Are A Moron – Here Is The Chart Proving It
Last week we jokingly wrote about a 
Facebook press release
 that was apparently an honest effort by the social media giant intended to summarize Russian efforts to undermine the 2016 election using their social media platform. That said, at least to us, it seemed as though Facebook unwittingly proved what a farce the entire 'Russian collusion' narrative had become as, after digging through advertising data for the better part of full year, Facebook reported that they found a 
'staggering' $50,000
 worth of ad buys that 
'MAY'
 have been purchased by Russian-linked accounts to run 
'potentially politically related'
 ads.
Not surprisingly, after being attacked by the mainstream media and even Hillary for "assisting" the Russians, Zuckerberg is once again in the press today fanning the flames of the 'Russian collusion' narrative by saying that Facebook will release to Congress the details of the 3,000 ads that 'MAY' have been purchased by Russian-linked accounts.
And while it seems obvious, please allow us to once again demonstrate why this entire process is so utterly bizarre… 
The chart below demonstrates how the $50,000 worth of ad buys that 'MAY' have been purchased by Russian-linked accounts to run 'potentially politically related' ads compares to the $26.8 billion in ad revenue that Facebook generated in the U.S. over the same time period between 3Q 2015 and 2Q 2017….If $50,000 can swing an entire presidential election can you imagine what $26.8 billion can do?
Of course, not all of that $26.8 billion was spent on political advertising so we took a shot at breaking it down further.  While Facebook doesn't disclose political spending as a percent of their overall advertising revenue, we did a little digging and found that political advertising represented ~5% of the overall ad market in the U.S. in 2016.  We further assumed that political share of the overall ad market is roughly half of that amount in non-election years, or 2.5%.
Using that data, we figure that Facebook may get ~3.5% of their annual revenue from political advertising in an average year, or nearly $1 billion per year…give or take a few million.  Unfortunately, as the chart below once again demonstrates, this still does little to support Zuckerberg's thesis that the $50,000 he keeps talking about is in any way relevant to the 2016 election.
Of course, the pursuit of this ridiculous narrative proves that Zuckerberg has no interest in spreading the truth about how his company impacted (and by "impacted," we mean "had no impact at all") the 2016 election, but rather is only interested in shoving his political agenda down the throats of an American public that he presumes is too stupid to question his propaganda. 
That said, if Zuckerberg is really just on a mission for truth, as he says he is, perhaps he can stop patronizing the American public and disclose the full facts surrounding political advertising on Facebook.  We suspect a simple financial disclosure detailing how much political advertising was sold on Facebook from 3Q 2015 – 2Q 2017, broken down by political affiliation, would go a long way toward proving just how meaningless $50,000 is in the grand scheme of things. 
That said, somehow we suspect 'truth' is not really Zuckerberg's end goal, now is it?
Today's Market Looks Like It Did At The Peaks Before Last 13 Bear Markets
The US stock market today looks a lot like it did at the peak before all 13 previous price collapses. That doesn't mean that a bear market is imminent, but it does amount to a stark warning against complacency.
h/t ZeroHedge 
The US stock market today looks a lot like it did at the peak before all 13 previous price collapses. That doesn't mean that a bear market is imminent, but it does amount to a stark warning against complacency.
The U.S. stock market today is characterized by a seemingly unusual combination of very high valuations, following a period of strong earnings growth, and very low volatility.
What do these ostensibly conflicting messages imply about the likelihood that the United States is headed toward a bear market in stocks?
To answer that question, we must look to past bear markets. And that requires us to define precisely what a bear market entails. The media nowadays delineate a "classic" or "traditional" bear market as a 20% decline in stock prices.
That definition does not appear in any media outlet before the 1990s, and there has been no indication of who established it. It may be rooted in the experience of Oct. 19, 1987, when the stock market dropped by just over 20% in a single day. Attempts to tie the term to the "Black Monday" story may have resulted in the 20% definition, which journalists and editors probably simply copied from one another.
Origin of the '20%' figure
In any case, that 20% figure is now widely accepted as an indicator of a bear market. Where there seems to be less overt consensus is on the time period for that decline. Indeed, those past newspaper reports often didn't mention any time period at all in their definitions of a bear market. Journalists writing on the subject apparently did not think it necessary to be precise.
In assessing America's past experience with bear markets, I used that traditional 20% figure, and added my own timing rubric. The peak before a bear market, per my definition, was the most recent 12-month high, and there should be some month in the subsequent year that is 20% lower. Whenever there was a contiguous sequence of peak months, I took the last one.
Referring to my compilation of monthly S&P Composite and related data, I found that there have been just 13 bear markets in the U.S. since 1871. The peak months before the bear markets occurred in 1892, 1895, 1902, 1906, 1916, 1929, 1934, 1937, 1946, 1961, 1987, 2000 and 2007. A couple of notorious stock-market collapses — in 1968-70 and in 1973-74 — are not on the list, because they were more protracted and gradual.
CAPE ratio
Once the past bear markets were identified, it was time to assess stock valuations prior to them, using an indicator that my Harvard colleague John Y. Campbell and I developed in 1988 to predict long-term stock-market returns. The cyclically adjusted price-to-earnings (CAPE) ratio is found by dividing the real (inflation-adjusted) stock index by the average of 10 years of earnings, with higher-than-average ratios implying lower-than-average returns. Our research showed that the CAPE ratio is somewhat effective at predicting real returns over a 10-year period, though we did not report how well that ratio predicts bear markets.
This month, the CAPE ratio in the U.S. is just above 30. That is a high ratio. Indeed, between 1881 and today, the average CAPE ratio has stood at just 16.8. Moreover, it has exceeded 30 only twice during that period: in 1929 and in 1997-2002.
But that does not mean that high CAPE ratios aren't associated with bear markets. On the contrary, in the peak months before past bear markets, the average CAPE ratio was higher than average, at 22.1, suggesting that the CAPE does tend to rise before a bear market.
Moreover, the three times when there was a bear market with a below-average CAPE ratio were after 1916 (during World War I), 1934 (during the Great Depression) and 1946 (during the post-World War II recession). A high CAPE ratio thus implies potential vulnerability to a bear market, though it is by no means a perfect predictor.
Earnings to the rescue?
To be sure, there does seem to be some promising news. According to my data, real S&P Composite stock earnings have grown 1.8% per year, on average, since 1881. From the second quarter of 2016 to the second quarter of 2017, by contrast, real earnings growth was 13.2%, well above the historical annual rate.
But this high growth does not reduce the likelihood of a bear market. In fact, peak months before past bear markets also tended to show high real earnings growth: 13.3% per year, on average, for all 13 episodes. Moreover, at the market peak just before the biggest ever stock-market drop, in 1929-32, 12-month real earnings growth stood at 18.3%.
Another piece of ostensibly good news is that average stock-price volatility — measured by finding the standard deviation of monthly percentage changes in real stock prices for the preceding year — is an extremely low 1.2%. Between 1872 and 2017, volatility was nearly three times as high, at 3.5%.
Low volatility
Yet, again, this does not mean that a bear market isn't approaching. In fact, stock-price volatility was lower than average in the year leading up to the peak month preceding the 13 previous U.S. bear markets, though today's level is lower than the 3.1% average for those periods. At the peak month for the stock market before the 1929 crash, volatility was only 2.8%.
In short, the U.S. stock market today looks a lot like it did at the peaks before most of the country's 13 previous bear markets. This is not to say that a bear market is guaranteed: Such episodes are difficult to anticipate, and the next one may still be a long way off. And even if a bear market does arrive, for anyone who does not buy at the market's peak and sell at the trough, losses tend to be less than 20%.
But my analysis should serve as a warning against complacency. Investors who allow faulty impressions of history to lead them to assume too much stock-market risk today may be inviting considerable losses.
The Demise Of The Dollar?
If you think the US dollar is on the way out, let's look at currency flows, reserves and debt.
So let's look at currency flows, reserves, and debt.
The demise of the U.S. dollar has been a staple of the financial media for decades. The latest buzzword making the rounds is de-dollarization, which describes the move away from USD in global payments.
De-dollarization is often equated with the demise of the dollar, but this reflects a fundamental misunderstanding of the currency markets.

Look, I get it: the U.S. dollar arouses emotions because it's widely seen as one of the more potent tools of U.S. hegemony. Lots of people are hoping for the demise of the dollar, for all sorts of reasons that have nothing to do with the actual flow of currencies or the role of currencies in the global economy and foreign exchange (FX) markets.
So there is a large built-in audience for any claim that the dollar is on its deathbed.
I understand the emotional appeal of this, but investors and traders can't afford to make decisions on the emotional appeal of superficial claims–not just in the FX markets, but in any markets.
So let's ground the discussion of the demise of the USD in some basic fundamentals. Now would be a good time to refill your beverage/drip-bag because we're going to cover some dynamics that require both emotional detachment and focus.
First, forget what currency we're talking about. If the USD raises your hackles, then substitute quatloos for USD.
There are three basic uses for currency:
1. International payments. This can be thought of as flow: if I buy a load of bat guano and the seller demands payment in quatloos, I convert my USD to quatloos–a process that is essentially real-time–render payment, and I'm done with the FX part of the transaction.
It doesn't matter what currency I start with or what currency I convert my payment into to satisfy the seller–I only hold that currency long enough to complete the transaction: a matter of seconds.
If sellers demand I use quatloos, pesos, rubles or RMB for those few moments, the only thing that matters is the availability of the currency and the exchange rate in those few moments.
2. Foreign reserves. Nation-states keep reserves for a variety of reasons, one being to support their own currency if imbalances occur that push their currency in unwanted directions.
The only nations that don't need to hold much in the way of currency reserves are those that issue a reserve currency–a so-called "hard currency" that is stable enough and issued in sufficient size to be worth holding in reserve.
3. Debt. Everybody loves to borrow money. We know this because global debt keeps rising at a phenomenal rate, in every sector: government (public), corporate and household (private sectors).(see chart below)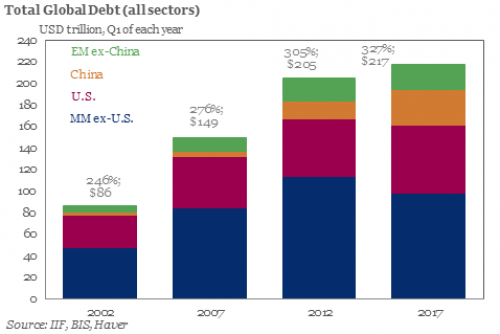 Every form of credit/debt is denominated in a currency. A Japanese bond is denominated in yen, for example. The bond is purchased with yen, the interest is paid in yen, and the coupon paid at maturity is in yen.
What gets tricky is debt denominated in some other currency. Let's say I take out a loan denominated in quatloos. The current exchange rates between USD and quatloos is 1 to 1: parity. So far so good. I convert 100 USD to 100 quatloos every month to make the principal and interest payment of 100 quatloos.
Then some sort of kerfuffle occurs in the FX markets, and suddenly it takes 2 USD to buy 1 quatloo. Oops: my loan payments just doubled. Where it once only cost 100 USD to service my loan denominated in quatloos, now it takes $200 to make my payment in quatloos. Ouch.
Notice the difference between payments, reserves and debt: payments/flows are transitory, reserves and debt are not. What happens in flows is transitory: supply and demand for currencies in this moment fluctuate, but flows are so enormous–trillions of units of currency every day–that flows don't affect the value or any currency much.
FX markets typically move in increments of 1/100 of a percentage point. So flows don't matter much. De-dollarization of flows is pretty much a non-issue.
What matters is demand for currencies that is enduring: reserves and debt. The same 100 quatloos can be used hundreds of times daily in payment flows; buyers and sellers only need the quatloos for a few seconds to complete the conversion and payment.
But those needing quatloos for reserves or to pay long-term debts need quatloos to hold. The 100 quatloos held in reserve essentially disappear from the available supply of quatloos.
Another source of confusion is trade flows. If the U.S. buys more stuff from China than China buys from the U.S., goods flow from China to the U.S. and U.S. dollars flow to China.
As China's trade surplus continues, the USD just keep piling up. What to do with all these billions of USD? One option is to buy U.S. Treasury bonds (debt denominated in dollars), as that is a vast, liquid market with plenty of demand and supply. Another is to buy some other USD-denominated assets, such as apartment buildings in Seattle.
This is the source of the petro-dollar trade. All the oil/gas that's imported into the U.S. is matched by a flow of USD to the oil-exporting nations, who then have to do something with the steadily increasing pile of USD.
Note what happens to countries using gold as their currency when they run large, sustained trade deficits. All their gold is soon transferred overseas to pay for their imports. So any nation using gold as a currency can't run trade deficits, lest their gold drain away.
Nations aspiring to issue a reserve currency have the opposite problem. They need enough fresh currency to inject into the global FX markets to supply those wanting to hold their currency in reserve.
This means any nation running structural trade surpluses will have difficulty issuing a reserve currency. Nations shipping goods and services overseas in surplus end up with a bunch of foreign currencies–whatever currencies their trading partners issue. This is opposite of the global markets need, i.e. a surplus (supply) of the reserve currency.
Any nation that wants to issue a reserve currency has to emit enough currency into the global economy to supply the demand for reserves. One way to get that currency into the global system is run trade deficits, as the world effectively trades its goods and services in exchange for the currency.
A reserve currency cannot be pegged; it must float freely on the global FX exchange. China's currency, the RMB, is informally pegged to the USD; it doesn't float freely according to supply and demand on global FX markets.
Nobody wants to hold a currency that can be devalued overnight by some central authority. The only security in the realm of currencies is the transparent FX market, which is large enough that it's difficult to manipulate for long.
(Global FX markets trade trillions of dollars, yen, RMB and euros daily.)
This is why China isn't keen on allowing its currency to float. Once you let your currency float, you lose control of its exchange rate/value. The value of every floating currency is set by supply and demand, period. No pegs, no "official" rate, just supply and demand.
If traders lose faith in your economy, your ability to service debt, etc., your currency crashes.
So let's look at currency flows, reserves and debt. In terms of currencies used for payments, the euro and USD are in rough parity. Note the tiny slice of payments made in RMB/yuan. This suggests 1) low demand for RMB and/or 2) limited supply of RMB in FX markets.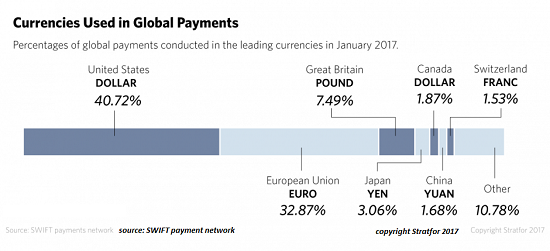 The USD is still the dominant reserve currency, despite decades of diversification. Global reserves (allocated and unallocated) are over $12 trillion. Note that China's RMB doesn't even show up in allocated reserves–it's a non-player because it's pegged to the USD. Why hold RMB when the peg can be changed at will? It's lower risk to just hold USD.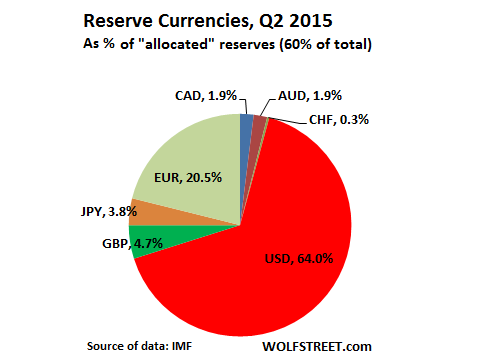 While total global debt denominated in USD is about $50 trillion, the majority of this is domestic, i.e. within the U.S. economy. $11 trillion has been issued to non-banks outside the U.S., including developed and emerging market debt: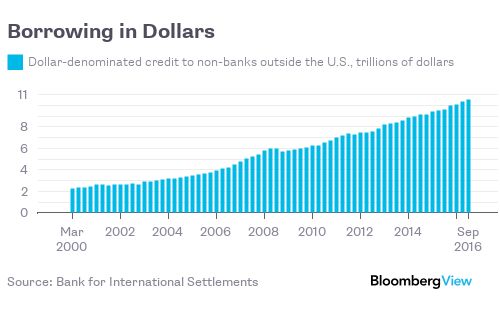 According to the BIS, if we include off-balance sheet debt instruments, this external debt is more like $22 trillion. FX swaps and forwards: missing global debt?

Every day, trillions of dollars are borrowed and lent in various currencies. Many deals take place in the cash market, through loans and securities. But foreign exchange (FX) derivatives, mainly FX swaps, currency swaps and the closely related forwards, also create debt-like obligations. For the US dollar alone, contracts worth tens of trillions of dollars stand open and trillions change hands daily. And yet one cannot find these amounts on balance sheets. This debt is, in effect, missing.
The debt remains obscured from view. Accounting conventions leave it mostly off-balance sheet, as a derivative, even though it is in effect a secured loan with principal to be repaid in full at maturity. Only footnotes to the accounts report it.
Focusing on the dominant dollar segment, we estimate that non-bank borrowers outside the United States have very large off-balance sheet dollar obligations in FX forwards and currency swaps. They are of a size similar to, and probably exceeding, the $10.7 trillion of on-balance sheet debt.
So let's wrap this up. To understand any of this, we have to start with Triffin's Paradox, a topic I've addressed numerous times here. The idea is straightforward: every currency serves two different audiences, the domestic economy and the FX/global economy. The needs and priorities of each are worlds apart, so no currency can meet the conflicting demands of domestic and global users.
Understanding the "Exorbitant Privilege" of the U.S. Dollar (November 19, 2012)
So if a nation refuses to float its currency for domestic reasons, it can't issue a reserve currency. Period.
If a nation runs trade surpluses, it has few means to emit enough currency into the FX market to fulfill all three needs: payment, reserves and debt.
As for replacing the USD with a currency convertible to gold: first, the issuer would need to emit trillions for the use of its domestic economy and global trade (let's say $7 trillion as an estimate). Then it would need to issue roughly $6 trillion for reserves held by other nations, and then another $11 trillion (or maybe $22 trillion) for those who wish to replace their USD-denominated debt with debt denominated in the new gold-backed currency.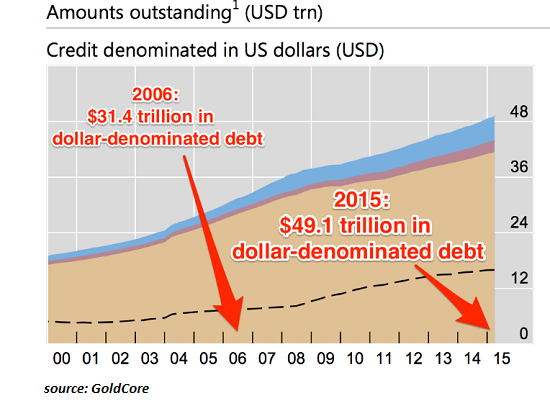 So that's at least $24 trillion required to replace the USD in global markets, roughly three times the current value of all the gold in existence. Given the difficulty in acquiring more than a small percentage of available gold to back the new currency, this seems like a bridge too far, even if gold went to $10,000 per ounce.
Personally, I would like to see a free-floating completely convertible-to-gold currency. Such a currency need not be issued by a nation-state; a private gold fund could issue such a currency. Such a currency would fill a strong demand for a truly "hard" currency. The point here is that such a currency would have difficulty becoming a reserve currency and replacing the USD in the global credit market.
Issuing a reserve currency makes heavy demands on the issuing nation. Many observers feel the benefits are outweighed by the costs. Be that as it may, the problem of replacing the USD in all its roles is that no other issuer has a large enough economy and is willing to shoulder the risks and burdens of issuing a free-floating currency in sufficient size to meet global demands.
Of related interest:
How Dangerous Is Emerging Markets Dollar Debt?
$10.5 trillion in dollar-denominated debt
The Fed's Global Dollar Problem Borrowers around the world have gone on a dollar binge. This makes them vulnerable when interest rates rise.