A Fraud At The Top Of Tesla?
Daily Reckoning | Original Link
Is Elon Musk, CEO of Tesla Inc. (TSLA) a fraud?
Or is he just terribly misinformed?
That's one of the many questions investors are asking this week after Tesla released sales figures for the third quarter.
Two months ago, Tesla announced that the company would manufacture 1,500 of its new low-priced Model 3 sedans during the third quarter. By the end of the fourth quarter, Tesla expects to be producing 5,000 cars a week.
So how many of the 1,500 Model 3 cars were actually made during the last quarter?
Just 260.
That's not a "miss." That's a whiff of epic proportions!
Tesla is Building a Reputation… On and Off the Road
Quite frankly, I would love to have a Tesla parked in my garage.
Tesla has built a reputation for quality, luxury, and innovation that no other car manufacturer has been able to match… (yet).
I'm intrigued by the company's progress with autonomous driving, and it's exciting to think about how much reading I could get done while heading to the airport if I didn't have to actually be driving my car.
So Tesla's reputation when it comes to the quality and technology in its vehicles is quite amazing. That seems to be the vision and drive behind just about everything that Elon Musk does.
He's a man on the edge of the curve, always trying new things, always pushing the boundaries, always producing high quality with maximum functionality.
In addition to its reputation for quality and innovation, Tesla is building another reputation.
The company's reputation on Wall Street is anything but quality. In fact, analysts are now taking everything that the company says with a grain of salt.
Take for example, Tesla's prediction of 1,500 Model 3 cars manufactured last quarter. Even though this was the stated goal, Wall Street analysts didn't believe the company would meet this level.
The average Wall Street analyst surveyed already expected Tesla to miss the target by 15%. They were right about the miss… But just didn't fully grasp the magnitude of how far Tesla would fall short of guidance.
This isn't the first (or second) time Tesla has disappointed investors. The company has a long history of setting grandiose expectations, and then failing to meet its own time lines for fulfilling its promises.
Just last quarter, shares of TSLA sank sharply after the company missed delivery expectations for its existing models that were already supposed to be in full production mode.
An Investor's Worst Nightmare
True believers in Tesla and its stock will point to the strong returns investors have received over the past five years.
To be fair, the stock has risen from $33.87 at the end of 2012, to a current price near $335 as we enter the last quarter of 2017. That's an 889% gain for investors who held their shares through the entire period, or just over a 58% annualized return over five years. Not bad.
But take a look at the roller coaster ride you would have had to sit through to enjoy this return: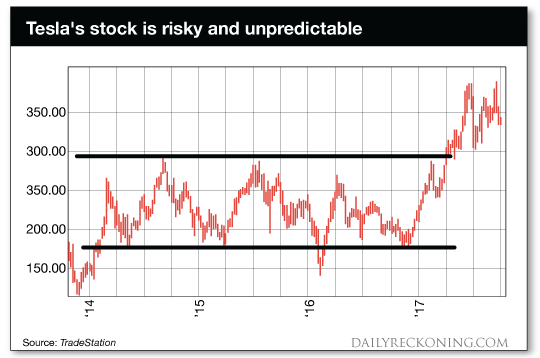 As you can see in this chart, Tesla went essentially nowhere for a three year period (while giving investors ulcers because of the turbulent back and forth trading).
Three different times during this period, shareholders endured large declines. Between 2014 and 2015, the stock dropped 38%. The fall between 2015 and 2016 was a gut-wrenching 51%. And then after rebounding in early 2016, the stock turned around and fell another 34%.
Would you really have had the resolve to hold TSLA through all of that turbulence? All the while knowing that Tesla was not turning a profit, burning through cash and may still be years away from actually becoming profitable?
Call me crazy, but I'd rather own a stable dividend paying company like Ford Motor (NYSE:F) or General Motors (NYSE:GM), than a dream stock like TSLA that may or may not turn out to be a viable business…
"Do You Think I'm An Idiot?"
I'm currently reading a biography on Tesla's CEO Elon Musk by Ashlee Vance. (Actually I'm listening to the audio book while I run, bike, or when I'm in my car).
In the opening chapter, the author talks about having a long dinner with Elon in which the entrepreneur shared details on his many dreams including space travel, inhabiting other planets, and other "ahead of their time" ideas.
As the conversation wound to a close, Elon looked at Ashlee and asked point blank: "Do you think I'm an idiot?"
The question is worth considering…
No, I don't really think Elon is an idiot. The man is clearly a genius and has an amazing mind. But I do wonder if he is out of touch with the reality of what it takes to actually run a sustainable profitable business.
According to many, Tesla is just a company Elon started to help generate cash for his rocket program. And so far, there's no cash actually being generated (except for the inflated price that investors are paying for their shares of TSLA).
I'm curious what you think…
Do you own shares of Tesla? Would you buy them at a certain price? Do you think this company is a wise investment?
Maybe you think I'm the idiot. After all, I've been steering you away from this company and telling you that the stock is too risky.
I'd love to hear your thoughts on Tesla, Elon Musk, our ideas here at The Daily Edge, or anything else that's on your mind.
Please send your thoughts to EdgeFeedback@AgoraFinancial.com.
I look forward to hearing from you!
Here's to growing and protecting your wealth!
Zach Scheidt
Editor, The Daily Edge
Did you know trading options can actually be safer and more profitable than buying and selling stocks? Video and plain English training guide reveals how to get started tonight. 100% free.

Download now.
Here's an Investment You Should Not Forget About
It's pretty near impossible to build a growth portfolio without a very large weighting of technology stocks.
Original Link : Investing Daily
It's pretty near impossible to build a growth portfolio without a very large weighting of technology stocks. Look at any actively traded ETF containing the major tech companies like Apple (Nasdaq: AAPL), Amazon (Nasdaq: AMZN), Alphabet (Nasdaq: GOOG), Microsoft (Nasdaq: MSFT), and Facebook (Nasdaq: FB), and you are looking a collection of stocks that has vastly outperformed the major market averages over the past one-, five-, and 10-year periods.
All of these stocks have strong fundamentals and near monopolies or at least leading market shares within their realms. They will maintain this grip unless the government decides to step in (some whispering about this lately but nothing more) or the companies run into major competition from Chinese counterparts.
Moreover their valuations while not cheap are not frothy, either. In contrast to 2000, when Cisco (Nasdaq: CSCO) was trading above 100 times earnings, not even Amazon trades at a forward P/E of about 60, with growth in the mid-20s likely over at least the next several years. Amazon's free cash yield is positive, about 3.5 percent based on expected 2018 values, and growing faster than earnings.
But we're not here today to praise these great tech companies but to offer an alternative, an investment that in the long run may have more potential and where you don't have to worry about government interference or Chinese competition. No, we haven't discovered some miracle stock – rather, we're talking about a miracle metal. It's one that is vital in almost all technologies and that is running up against supply constraints just as the demand for technology, from blockchains to artificial intelligence to the Internet of Things, may be on the verge of a major extended growth phase.
Moreover, this miracle metal offers not just a way to play on tech but is also prized because it is inherently beautiful, resistant to oxidation, and a wonderful hedge against inflation. We are, you may have guessed, talking about silver. Silver, which has been used as currency for at least as long as gold – many thousands of years – is still valued as a monetary investment, with about 40 percent of yearly demand coming from investors. But the other 60 or so percent comes from its many industrial uses, which are on the threshold of accelerated growth.
In the 1980s no less an investor than Warren Buffett became the world's largest holder of silver. Once it became news that he had amassed such a large position, he stopped reporting his silver holdings and presumably sold them. Still, Buffett's rationale for buying the metal holds true today, to an even greater extent.
Buffett said he was buying silver because demand for the metal consistently exceeded supply. Silver has a number of remarkable properties that make it a critical part of many industrial applications. The metal is the world's best electrical conductor – even better than copper – and also the world's best conductor of heat. And as mentioned above, it is relatively nonreactive with oxygen, which is a major reason the metal maintains its properties over time.
This combination of characteristics has made silver an essential industrial and technology metal. The keyboard I am using to write these words has silver. My smartphone may have 0.35 grams of silver, and if I lived in a house that used solar power, silver would be critical to the photovoltaic modules providing my electricity. The auto I drive may have as much as 2 to 3 ounces of silver, depending on how many connections it has and the type of windshield heater.
The point is that silver's properties, because they are simultaneously singular and critical, translate into many uses. And in world in which technology is becoming more pervasive; in which solar has become the fastest-growing renewable energy; and in which the number of nano-connections among objects is multiplying, the industrial demand for silver is certain to surge.
Right now, as has been true since at least the 1980s, demand for silver exceeds supply, and prospects for additional supply are limited. As I pointed out in a recent interview, above-ground stocks of silver – bars and coins purchased for investment purposes – have mostly accumulated in custodian vaults. The bulk of these supplies, around 1 billion ounces, or a year's worth of production, is held in China.
Rather than use these supplies to make up for the current supply/demand deficit, it's likely that China will continue to accumulate the metal. That's because the country, with its megacities that go hand in hand with a burgeoning Internet of Things, its massive AI projects, and other technologies that have begun to drive the economy, will want to have on hand as much as possible of the silver that these technologies depend on.
The bottom line is that over the next several years, silver is likely to be in extremely short supply. I would not be surprised to see the metal climb to three digits by the early part of the next decade, and I sincerely doubt that you will find many tech stocks that will outperform.
Did you know trading options can actually be safer and more profitable than buying and selling stocks? Video and plain English training guide reveals how to get started tonight. 100% free.

Download now.
Bitcoin Won't Replace Gold… Here's Why You Should Still Own It
Bitcoin is frequently compared to gold. But it's not an either/or proposition… And I'll tell you why.
Bitcoin is frequently compared to gold. But it's not an either/or proposition… And I'll tell you why.
Gold and bitcoin are the only two widely distributed, decentralized methods of exchanging value as currency. They have no central authority issuance, unlike U.S. dollars or any other fiat currency.
Likewise, neither bitcoin nor gold can just be "printed" at the push of a button by an anxious central banker. You have to either earn your gold by mining it, or you can pay cash for it. The same is true of bitcoin (although bitcoin miners use computers instead of picks and shovels).
But there's one big difference between the two…
Gold is the very opposite of new technology.
Gold is a physical, tangible, and real asset. You can pick it up and feel its satisfying weight in your hand. It can't be altered. Gold is gold. Once I own it, that's it. I don't need to rely on a functioning Internet. I don't need a computer. It has pure, tangible value.
And gold has unquestionably been money for thousands of years. A gold coin can still sit in my pocket, even while I might be fending off mobs, zombies, hordes of cockroaches, or a nuclear winter.
On the other hand, bitcoin is nothing more than a code that exists somewhere on the Internet. You can't pick it up and put it in your pocket. If you lose that code… you lose your bitcoin.
Not only that, but unlike gold, bitcoin isn't easy to explain to the average guy on the street. The fundamentals of blockchain, and the distributed ledger systems upon which bitcoin is built, are not straightforward. It usually takes time and effort for people to understand just how much of an innovation bitcoin really is as a "trustless" mechanism for exchanging value.
(By "trustless," I mean we don't need to trust an intermediary to settle our transaction – we can exchange value directly and securely with one another, thanks to blockchain technology.)
Despite its benefits, most people simply can't comprehend bitcoin and blockchain.
Gold, however, is easy to understand. Its value has stood the test of time. As a friend of mine once put it: "I prefer a currency that has survived 5,000-plus years of wars, empires, the rise and fall of countries, cold spells, hot spells, and has been universally accepted in every country of the world."
I can't argue with that.
No matter how big bitcoin gets, it will never be gold.
If you were to ask me which I think is more likely to be around a hundred years from now, my answer is gold… every time. Nothing has usurped it for millennia as a globally accepted medium of exchange or store of value, and I don't think bitcoin will do so either.
But… you should still own bitcoin. Let me tell you why…
Bitcoin is the ultimate in freedom of asset ownership. The government can't confiscate it, as the U.S. government did with gold under Executive Order 6102 in 1933.
You can cross national borders with bitcoin in your possession on a USB thumb drive… or, if you can memorize your private key, with no physical object in your possession of any kind.
Whether your bitcoin is worth $100 or $100 million, it makes no difference to how you move and store it (which is clearly not the same with gold). You don't need a trusted middleman to send it. And you can move it around the world, securely, in a matter of minutes.
And if you're looking for gains… bitcoin is a lot likelier than gold to be up 1,000% three years from now. Even though its price has soared over the past few years, it's still nowhere near mainstream yet.
So gold and bitcoin both deserve a place in your portfolio.
Gold has stood the test of time and is a medium of storing value. Bitcoin's time, on the other hand, is just beginning. Blockchain technology is the future, and when you have an opportunity to buy the future and tuck it away, you should take it.
Good investing,
Tama Churchouse
Editor's note: Tama's little-known bitcoin technique could potentially make you 10-50 times your money… And this week, he's sitting down with Porter Stansberry – live from Baltimore – to reveal how it works. You'll also hear unique predictions about bitcoin and the crypto markets. This event is completely free to attend – just tune in Wednesday at 8 p.m. Eastern time. Click here to reserve your spot.
Did you know trading options can actually be safer and more profitable than buying and selling stocks? Video and plain English training guide reveals how to get started tonight. 100% free.

Download now.
This is Why Blockchain Makes Online Retail Better
The cryptocurrency trend is red-hot.
The cryptocurrency trend is red-hot.
In fact, many are hailing cryptocurrencies as the future of money.
But as I've pointed out before, the underlying technology behind the cryptocurrency trend is the enabler… and that's going to change everything.
Today, I want to talk about a new way the blockchain and crypto trend is impacting an industry you've probably never considered — online retail.
In a way, this new trend is looking similar to when retailers in the 1990s jumped on the online marketplace trend. This changed the retail landscape dramatically and I foresee the same impact with blockchain.
In fact, we're already starting to see the shift.
Say Goodbye to Counterfeit Goods
Have you ever won an intense online bidding war only to receive your coveted order and find out upon receipt that the item you purchased is a fake?
If you haven't, you're lucky. Almost half a trillion dollars in counterfeit goods are delivered to homes and businesses each year.
Counterfeit goods also plague retailers. They erode sales, brand trust and customer loyalty.
But using blockchain technology, retailers can now provide customers with indisputable proof of authenticity at every step in the supply chain.
The high-end sneaker company Greats, for example, uses blockchain and 3-D-printed smart tags, scannable by a smartphone, to prove product authenticity.
No More Stolen or Lost Packages
Counterfeit goods aren't the only problem blockchain tech is tackling in online retail.
We've all had a package lost or stolen at some point. It's a frustrating inevitability of buying online.
It's even worse for businesses. When orders are lost or stolen, a business could fail, costing people jobs and their livelihoods.
With blockchain tech, retailers can use a decentralized network that connects all parties in a supply chain, including you.
By using blockchain, a retailer can register their product on an encrypted digital ledger, meaning stolen merchandise can be identified and tracked anywhere at any time.
This blockchain-based solution has already been used by retailers in several markets, including pharmaceuticals, luxury items, diamonds and electronics.
But blockchain goes one step further, too. By offering peer-to-peer networks instead of the linear, checkpoint-based tracking today's couriers use, problems with shipments get identified much faster and resolved automatically.
For example, if Amazon implemented blockchain into their supply chain, they could instantly communicate digital documents like purchase orders, receipts and shipping manifests directly to their customers.
If something went awry, Amazon would be alerted immediately, with resolutions following swiftly. This would streamline the delivery process, eliminating the need for customers to jump through hoops when a package doesn't arrive on time or at all.
Digital Wallets For All Your Warranties
Consumer protection is another application that will use blockchain platforms to better the customer experience.
If you've ever had an expensive purchase go belly-up well before its time, you know the importance of having your warranty handy.
But honestly, who keeps track of all that paper?
A family of four would need a full file cabinet just to keep track!
That's where blockchain comes into play by moving product warranties onto the cloud via blockchain.
This eliminates the need for the clutter paper warranties create, allowing customers to maintain a virtual warranty wallet. This gives you access to all your product warranties anywhere, anytime.
On the flip side, this also allows retailers to update warranty info, saving them a ton in administrative costs.
The marriage between online retail and blockchain is a match made in heaven with endless possible applications.
Right now, we're just scratching the surface of how blockchain could fundamentally change online retail for the better.
It's becoming clear that blockchain can revolutionize e-commerce in amazing ways.
Potentially solving the woes you face when shopping online.
For Tomorrow's Trends Today,
Did you know trading options can actually be safer and more profitable than buying and selling stocks? Video and plain English training guide reveals how to get started tonight. 100% free.

Download now.