Apple Loves Trump
three reasons why you need to buy shares of Apple in your account today — before it rebounds any further…
"You don't have to buy me the iPhone X, Dad… There's nothing all that special about it."
This is what my 13-year-old daughter said as we drove home from her cheer practice.
I breathed a sarcastic sigh of relief. And no, there's no way I would pay $1,000 to upgrade my daughter's "entertainment device" to the newest iPhone version.
So far, Rebekah's assessment of the new phone is in line with critic's review of the phone. Shares of Apple have dropped 15 points — or nearly 10%. And investors are openly wondering if this is "the beginning of the end" for Apple.
Despite the lackluster reviews, Apple is still a strong American corporate icon. Its stock is still an excellent investment. And today, I'm going to give you three reasons why you need to buy shares of Apple in your account today — before it rebounds any further…
Apple Buy Reason #1: A Growing Horde of Cash
At last check, Apple's cash balance was at a record $261.5 billion dollars. That's billion with a "B" — a number that is larger than the projected GDP of (not-so) small countries like Venezuela, Finland, Peru or New Zealand.1
Not only is Apple sitting on hundreds of billions in cash, but that level is actually growing, thanks to Apple's steady profits. Last quarter, Apple's cash balance grew by 13% year-over-year. And this was a quarter that did not include a major new product launch to drive profits higher.
This huge and growing cash balance makes shares of Apple very attractive to long-term investors.
And although the share price for AAPL moved lower after announcing the new iPhone X, the company's cash balance did not.
So that means you can buy your portion of this giant cash pile at a discount today. The cash is still in the company's coffers. You just get a lower price to own a piece of this wildly profitable firm.
Apple Buy Reason #2: A Weak Dollar Makes Apple Stronger
It may sound counterintuitive, but the weak U.S. dollar has actually helped Apple grow profits.
To understand how a weak U.S. currency helps Apple sell more iPhones, let's look at an example.
A customer in Europe wants to buy an iPhone. At the beginning of this year, it took $1.05 to exchange for 1 euro. If you do the math, you'll find that it costs this customer about 952 euros to pay for a $1,000 phone…
But today, it takes $1.175 to buy one euro. That's because the U.S. dollar has weakened, so it takes more dollars for every euro.
Now, the same phone that costs $1,000 in the states will go for 851 euros. In other words, a European customer gets a 100 euro discount from what he would have paid at the beginning of the year. That makes the new iPhone more attractive to international buyers, even if the new features aren't what everyone was hoping for.
That same scenario is being repeated across the globe.
Thanks to the falling U.S. dollar, American companies are able to export products and services to international markets. U.S. companies are much more competitive because of this scenario, leading to bigger overseas profits for companies like Apple…
Apple Buy Reason #3: Tax Holiday Brings Billions Home to Shareholders
This weekend, National Economic Council Director Gary Cohn told reporters that the new Republican tax plan would include a special tax holiday for companies with overseas cash balances.2
If you've been reading The Daily Edge for some time, you know we've been expecting this announcement.
According to Cohn, the plan is to allow companies like Apple to bring overseas profits back to the United States for a low 10% tax rate. This is well below the 35% Federal corporate tax rate companies currently pay.
This is a big deal for companies like Apple who currently holds 94% of its cash (or $246 billion) in overseas accounts.
It's a big deal for Apple to be able to bring this cash back to the U.S.
Once these profits are brought back (or "repatriated"), Apple will be free to pay these hundreds of billions back to us as shareholders. If you buy shares today, I expect your dividend to increase over the next year, and shares should trade higher as investors anticipate this cash coming back to the U.S.
[Editor's Note: If you would like to see other U.S. companies that stand to benefit from this special tax holiday, check out my special report: "The Cash for Patriots Program: How to Collect up to $6,567 Every Month" which is already available to my Lifetime Income Report subscribers.]
Today, I strongly recommend you buy shares of Apple before this tax holiday is written into law. By that time, other investors will have already figured out that Apple's dividends are set to skyrocket, and they will have already bought shares.
You want to own your shares before this news goes mainstream so you can benefit from the stock trading higher.
I'll keep you posted on new developments for this special tax holiday.
Here's to growing and protecting your wealth!
Zach Scheidt
Editor, The Daily Edge
Did you know trading options can actually be safer and more profitable than buying and selling stocks? Video and plain English training guide reveals how to get started tonight. 100% free.

Download now.
This Popular Retirement Advice Will Leave You 76.2% Broke
How much money do you need to retire on dividends alone?
This is a better question to ask than the typical "magic number" formula that most "first-level" thinking firms tout. Let's review why their approach is fatally flawed, so that we can derive a more reliable method of our own based in actual reality (and funded by actual dividend payments.)
Fidelity Says What?
You should aim to have 10 times your final salary in savings.
But why? I suppose they are claiming that, if you earned $100,000 in your final year working, that you'll want to earn this much in income every year for the rest of your life.
So, Fidelity says save a million bucks and you're in good shape.
But how exactly is $1,000,000 supposed to throw off $100,000 in excess income annually?
Fidelity's Strategic Dividend & Income Fund (FSDIX) pays 2.38% today. Which means, if you follow their advice to a tee, and buy their flagship income fund, you are earning $23,800 per year in income from your million-dollar stake.
That's a start. But where exactly is the other 76.2% of you income supposed to come from?
Apparently this is up to us to figure out, because we've run out of sage advice from this respected investment firm. So let's see if we can piece together a full retirement ourselves.
Shall We Also Withdraw 4% Annually?
We saved a million like they said, and we're earning less than our neighborhood coffee barista. I presume we're now supposed to sell shares to make up the difference. Most mainstream-following financial advisors say that we can sell 4% of our portfolio annually for income, so let's try this.
FSDIX has returned 7.54% annually since inception, so a 4% yearly drawdown appears sustainable. However, we see three glaring pitfalls.
First, another 4% means another $40,000 per million for a total of $63,800. Still not what we are looking for.
Second, this particular fund has underperformed the S&P 500 over the last year, three years, five years and ten years. It's also underperformed the broader market since inception (2003).
So what exactly was the point of buying a dividend fund when we were going to have to sell shares anyway? And see them appreciate less than a dumber, cheaper index fund?
FSDIX (Purple Bar) Underperforms – Always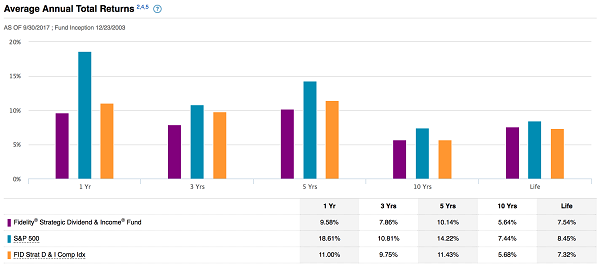 More concerning than mere mediocrity, however, is the threat of "reverse dollar cost averaging." Peak to trough in 2008, FSDIX lost 59% of its value. If you're selling stock for income, you're selling more and more at lower and lower levels:
You Don't Want to Be Selling Here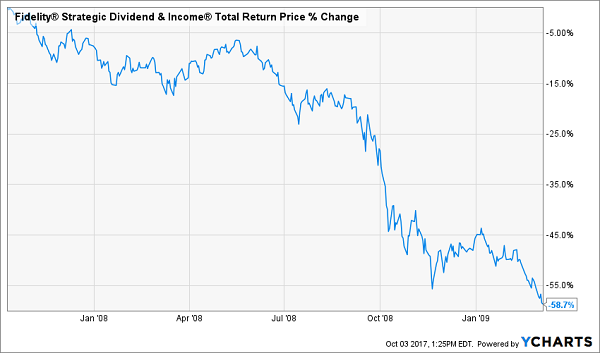 By July 2012, FSDIX investors who bought at the 2007 peak – and held 100% of their shares – had grinded their way back to even.
Buy who actually buys and holds? In reality, there are two types of investors:
Those who bought during 2008, 2009, and 2010. They made money much sooner, because they were able to buy low.
Those who sold during the downturn. Whether they had to sell for income, or simply got scared – many of these portfolios have still not recovered.
Back to Even (But Most Did Much Better, or Much Worse)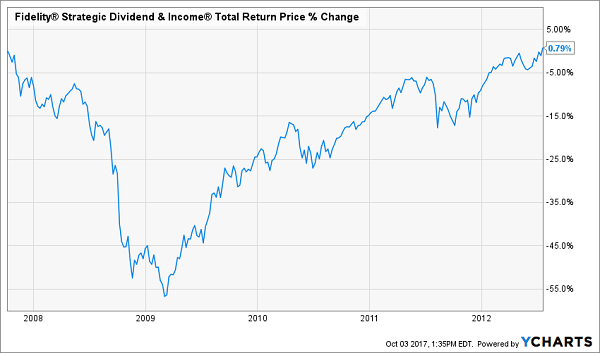 Dollar cost averaging is a powerful force. Make sure it's working for you, rather than against you. Here's how.
Fade the 4% Fallacy for a Smarter "Magic Dividend Number"
Our retirement approach is grounded in reality versus fantasy and false math. So, let's begin with the value of your actual portfolio.
Back to the $1 million example. Let's say we saved that money like Fidelity said to, and we still want $100,000 per year.
We'll ditch the flawed notion of selling capital for income, and live on dividends alone. This means our portfolio's "magic yield" is 10% annually.
But today, there's only one safe 10% yield left on the board. And I wouldn't recommend putting your entire portfolio in only one issue, no matter how sound its payout seems.
So, we're faced with a decision. We can:
Settle for less income, or
Save (or make) more money.
While I wouldn't recommend an entire portfolio of double-digit payers, I do like seven stocks (and funds) yielding an average of 8.3% today.
Their dividends are safe, and believe it or not, their prices are a bit undervalued to boot. This means we should enjoy price upside as well, and achieve 10%+ annual returns on these dividend machines.
Let's talk more about these income plays, because you should be tuning out the "first-level" pundits – those who do little or no original thinking – and replacing your underperforming payers with these meaningful (and safe) 8.3% yields.
3 Ways to Safely Bank 8.3% Dividends
Most of the stocks you read about in the mainstream media that pay 5% or better are train wrecks. They have big stated yields for the wrong reason – namely, because their prices have been axed in half or worse over the past year!
For example, retailer Macy's (M) pays 7.2% on paper. But its business model is toast. Next quarter's payment may happen, but that's a risky game I'm not willing to play.
Instead, I'd rather look in corners of the income world that aren't combed over as regularly. There are three in particular that I like today. You won't hear about them on CNBC, or read about them in the Wall Street Journal, because they don't buy advertising like Fidelity and other firms.
Their relative obscurity is great news for us 8.3% dividend seekers.
Play #1: Closed-End Funds
If you feel trapped "grinding out" dividend income with classic 3% payers (like dividend aristocrats), you can double or even triple your payouts immediately by moving to closed-end funds, or CEFs. In fact, you can often make the switch without actually switching investments.
I'll discuss my favorite CEFs in a minute.
Play #2: Preferred Shares
Not familiar with preferred shares? You're not alone – most investors only consider "common" shares of stock when they look for income.
But preferreds are a great way to earn 7% and even 8% yields from the same blue chips that only pay 2% or 3% on their "common shares."
I'll explain preferreds – and my favorite tickers to buy – after we finish our high yield hat trick.
Play #3: Recession-Proof REITs
The IRS lets real estate investment trusts, or REITs, avoid paying income taxes if they pay out most of their earnings to shareholders. As a result these firms tend to collect rent checks, pay their bills and send most of the rest to us as a dividend. It's a sweet deal.
Not all REITs are buys today, however – landlords with exposure to retail space should be avoided.
That's easy enough to do. I prefer to focus on REITs that operate in recession-proof industries only. I want to receive my rent check powered dividends no matter what happens in the broader economy.
Now let's discuss how you can get a hold of my complete "8.3% No Withdrawal Portfolio" research today, along with stock names, tickers and buy prices. Click here and I'll share the specifics – and all of my research – with you right now.
Did you know trading options can actually be safer and more profitable than buying and selling stocks? Video and plain English training guide reveals how to get started tonight. 100% free.

Download now.
This Trump Trade Will End in Disaster
Regardless of all of the noise, the so-called smart money is saying this trade is back on…
At least that's what the so-called smart money is saying…
While the White House can't boast about any major political wins related to tax cuts or infrastructure spending yet, investors are once again bidding up the stocks and sectors that follow Trump's growth-focused agenda.
The materials and finance sectors are both resting near year-to-date highs after enjoying strong September rallies. But another one of these rising Trump trades is headed for disaster in the years ahead. Regulation rollbacks, subsidies or other hair-baked political schemes can't save it from a painful demise.
But that doesn't mean we can't book short-term gains as a dead cat bounce lifts the coal industry from its lows.
"The EPA and no federal agency should ever use its authority to say to you we are going to declare war on any sector of our economy," EPA head Scott Pruitt told a crowd in Kentucky yesterday.
The war on coal is over, Pruitt said. But if this administration thinks it can permanently revive the dying coal industry by cutting some regulations, they're in for a surprise.
Even in developing nations, coal is losing its appeal as a cheap power source. In fact, world coal production just endured its biggest drop of all time earlier this year. Coal demand in the U.S. dropped by more than 33 million tons last year, Bloomberg reports, while global coal consumption dropped 1.7%, falling in every continent except Africa.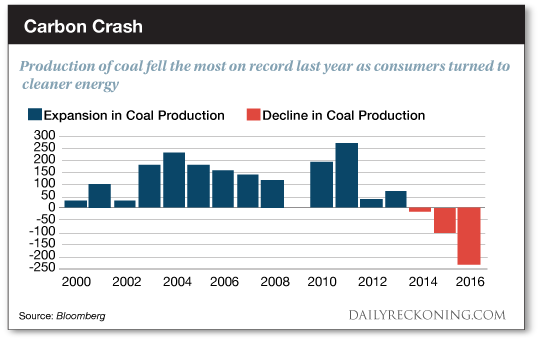 Across the globe, the coal industry is dying. The industry is teetering on the brink as most of the developed world moves on to cleaner energy sources. And in an age of cheap and plentiful natural gas, coal would have trouble staying in play even if we tossed every regulation out the window.
But Trump is still trying to flip the script.
In late March, Trump signed an executive order aimed at rolling back Obama-era rules curbing carbon emissions. Specifically, Trump's order requires the EPA to repeal the Clean Power Plan, a hefty set of rules imposed on coal power plants.
The White House framed the executive order as a move to bolster the country's energy independence and restore coal mining jobs. The news even provided a temporary boost to coal mining shares.
Trump has helped juice the VanEck Vectors Coal ETF (NYSE:KOL) not once but twice on so-called bullish news. The first peak materialized when Trump was elected. And the most recent climax materialized after the Clean Power Plant repeal back in April. The coal ETF's spring slide gave even produced a quick 15% correction.
But coal started sneaking higher once again over the summer. By August, KOL had pushed to prices not seen since late 2014. After consolidating these gains over the past several weeks, coal looks ready to make and fourth-quarter run.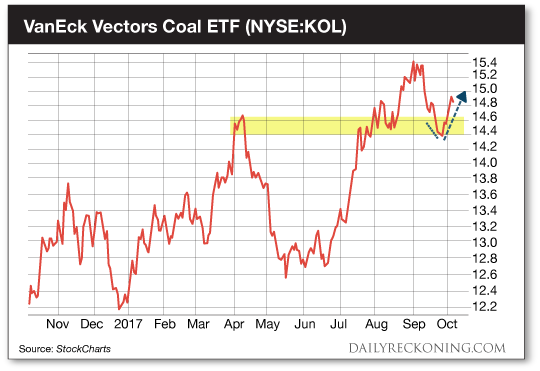 The stock market's biggest moves rarely play out as perfectly as the stories we read in the finance pages.
Remember, the day of Trump's victory was the exact top of coal's 2016 rally.
That's right — coal made its big move before Trump took the White House. The big energy winner of 2016 wasn't oil, gas, or solar. It was coal. The sooty stuff finished the year with a gain of 98%. That's almost a clean double from one of the world's dirtiest energy sources. And the rally started months before anyone was seriously talking about Trump winning the White House.
Once again, counterintuitive market moves stump traders who think they can trade political headlines. Investors knew Trump campaigned in favor of coal jobs and deregulation. But that didn't change the fact that the coal rally needed a break.
Coal has badly burned the headline traders over the past 12 months. But if you follow price, you stand a fighting chance at walking away with substantial gains.
We've enjoyed some success playing coal's crazy moves recently. We took profits on a short-term coal play back in December 2016 for a 40% gain. Then we attempted to play the March breakout to new highs (the market immediately stopped us out when it reversed).
Now coal is setting up for a big move again. We want to take another run at this play and grab the gains while we still can.
In the grand scheme of the markets, coal's comeback move is probably nothing more than a dead cat bounce. But we're more than happy to take the ride if it can hand us double-digit gains. That's a distinct possibility if KOL can push above its September highs.
Trump can't save coal. No one can. But that doesn't mean we can't profit from a quick trade…
Sincerely,
Greg Guenthner
for The Daily Reckoning
Did you know trading options can actually be safer and more profitable than buying and selling stocks? Video and plain English training guide reveals how to get started tonight. 100% free.

Download now.
What Not To Buy In Today's Stock Market
Dear reader, if you are overcome with fear of missing out on the next stock market move; if you feel like you have to own stocks no matter the cost; if you tell yourself, "Stocks are expensive, but I am a long-term investor"; then consider this article a public service announcement written just for you.
Before we jump into the stock discussion, let's quickly scan the global economic environment.
The health of the European Union did not improve in the last year, and Brexit only increased the possibility of other "exits" as the structural issues that render this union dysfunctional went unfixed.
Japan's population has not gotten any younger since the last time I wrote about it – it is still the oldest in the world. Japan's debt pile got bigger, and it remains the most indebted developed nation (though, in all fairness, other countries are desperately trying to take that title away from it). Despite the growing debt, Japanese five-year government bonds are "paying" an interest rate of –0.10 percent. Imagine what will happen to its government's budget when Japan has to start actually paying to borrow money commensurate with its debtor profile.
Regarding China, there is little I can say that I have not said before. The bulk of Chinese growth is coming from debt, which is growing at a much faster pace than the economy. This camel has consumed a tremendous quantity of steroids over the years, which have weakened its back — we just don't know which straw will break it.
S&P 500 earnings have stagnated since 2013, but this has not stopped analysts from launching their forecasts every year with expectations of 10–20 percent earnings growth… before they gradually take them down to near zero as the year progresses. The explanation for the stagnation is surprisingly simple: Corporate profitability overall has been stretched to an extreme and is unlikely to improve much, as profit margins are close to all-time highs (corporations have squeezed about as much juice out of their operations as they can). And interest rates are still low, while corporate and government indebtedness is very high — a recipe for higher interest rates and significant inflation down the road, which will pressure corporate margins even further.
I am acutely aware that all of the above sounds like a broken record. It absolutely does, but that doesn't make it any less true; it just makes me sound boring and repetitive. We are in one of the last innings (if only I knew more about baseball) of the eight-year-old bull market, which in the past few years has been fueled not by great fundamentals but by a lack of good investment alternatives.
Starved for yield, investors are forced to pick investments by matching current yields with income needs, while ignoring riskiness and overvaluation. Why wouldn't they? After all, over the past eight years we have observed only steady if unimpressive returns and very little realized risk. However, just as in dating, decisions that are made due to a "lack of alternatives" are rarely good decisions, as new alternatives will eventually emerge — it's just a matter of time.
Finding a financial advisor who you could trust used to be difficult, but not anymore. SmartAsset's Financial Advisor Matching tool will find the best advisor for you, based on your financial profile. Learn more about how easy it is – here.
The average stock out there (that is, the market) is very, very expensive. At this point it almost doesn't matter which valuation metric you use: price to ten-year trailing earnings; stock market capitalization (market value of all stocks) as a percentage of GDP (sales of the whole economy); enterprise value (market value of stocks less cash plus debt) to EBITDA (earnings before interest, taxes, depreciation, and amortization) — they all point to this: Stocks were more expensive than they are today only once in the past century, that is, during the dot-com bubble.
In reference to this fact, my friend and brilliant short-seller Jim Chanos said with a chuckle,
"I am buying stocks here, because once they went higher . . . for a year."
Investors who are stampeding into expensive stocks through passive index funds are buying what has worked – and is likely to stop working. But mutual funds are not much better. When I meet new clients, I get a chance to look at their mutual fund holdings. Even value mutual funds, which in theory are supposed to be scraping equities from the bottom of the stock market barrel, are full of pricey companies. Cash (which is another way of saying, "I'm not buying overvalued stocks") is not a viable option for most equity mutual fund managers. Thus this market has turned professional investors into buyers not of what they like but of what they hate the least (which reminds me of our political climate).
Less than 10 percent of actively managed funds are outperforming their benchmarks (their respective index funds) on a five-year trailing basis. Unfortunately, the last time this happened was 1999, during the dot-com bubble, and we know how that story ended.
To summarize the requirements for investing in an environment where decisions are made not based on fundamentals but due to a lack of alternatives, we are going to paraphrase Mark Twain:
"All you need in this life [read: lack-of-alternatives stock market] is ignorance and confidence, and then success is sure."
To succeed in the market that lies ahead of us, one will need to have a lot of confidence in his ignorance and exercise caution and prudence, which will often mean taking the path that is far less traveled.
Did you know trading options can actually be safer and more profitable than buying and selling stocks? Video and plain English training guide reveals how to get started tonight. 100% free.

Download now.