I was in Hawaii that day — the day the ballistic missile threat scared the living daylights out of every single person on the islands.

My first thought was what have I done?
How could I have brought my kids to Hawaii when I knew it was possible a crazy man could drop a nuke on one of the beautiful islands?



My second thought was whether we needed to be more worried about our building coming down or the post blast radiation.
Everything turned out fine of course. But I couldn't help but realize how real the threat of nuclear war is in today's society…
In the end, my family and I had a great time in Hawaii.
The alert was a false alarm and as it turns out, Kim Jong-Un isn't insane enough to launch a nuclear warhead at the United States.
In fact, as we've seen this week, Kim Jong-Un has actually held out an olive branch by sending a sizable North Korean contingent to the Olympics.
The man clearly wants to make the world a more harmonious place.
You've seen those cute North Korean cheerleaders he sent to the Olympics, right?
They are so happy!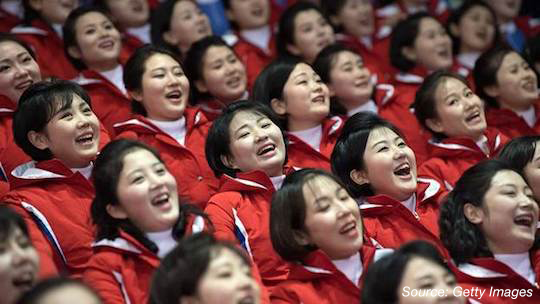 And then there's the "bell of the Olympics ball" Kim Yo-Jong, the sister of Kim Jong-Un. In the last few days, this smiling beauty delivered messages of reconciliation to South Korea and the rest of the world.
She even invited the South Korean President Moon Jae-in to visit Pyongyang, the capital of North Korea.
Yes, it has been wonderful for the entire world to see. North Korea is ready to change — ready to be the bigger country and take the first step to improve relationships.
But has it worked? Have world leaders accepted the North Korean gesture the way much of the media has?
Well, you be the judge. Here is what Vice President Pence had to say:
"We'll be there to cheer our athletes, but we'll also be there to stand with our allies and remind the world that North Korea is the most tyrannical and oppressive regime on the planet."
What? Mr. Pence, haven't you seen those cute cheerleaders?
The Real Intent — Not Reconciliation But Buying More Time?
Call me overly skeptical, but do you think there is any way it's more than coincidence that the North Korean charm offensive closely follows the U.N. announcing its strictest sanctions yet?



Am I wrong to doubt the intentions of a country that the Human Rights Watch said this about?:
A 2014 UN Commission of Inquiry found that abuses in North Korea were without parallel in the contemporary world.

They include extermination, murder, enslavement, torture, imprisonment, rape, forced abortions, and other sexual violence. North Korea operates secretive prison camps where perceived opponents of the government are sent to face torture and abuse, starvation rations, and forced labor.

Fear of collective punishment is used to silence dissent. There is no independent media, functioning civil society, or religious freedom.1
Did you actually read that? Sickening.



No matter how cute those cheerleaders seem, there is no reason to expect any improvement in relations with North Korea. In fact, those girls are almost certainly victims of horrible circumstances themselves.
And keep in mind, the last time North Korean cheerleaders were sent to the South, 21 of them ended up in jail for simply talking about what they saw during their trip.
The reality is, we shouldn't get our hopes up about North Korea's involvement in this year's Olympic Games. This is a non-event — a distraction intended to relieve some of the pressure that the world is rightfully exerting on a madman capable of the crimes listed above.
I wish it were otherwise, because I'd like to go back to Hawaii without being nervous about what might suddenly appear on my cell phone.
Here's to looking through the windshield,
Jody Chudley
Financial Analyst, The Daily Edge
Did you know trading options can actually be safer and more profitable than buying and selling stocks? Video and plain English training guide reveals how to get started tonight. 100% free.

Download now.