By Jeff Clark (Growth Stock Wire | Original Link)
The dollar rally has further to run.
We started looking for a bounce in the buck a couple months ago. While it took a little while to get started, all the things that go along with a stronger dollar have fallen into place: stocks are down… precious metals are down… and commodities are pulling back.
Eventually, the dollar rally will run out of steam and we'll likely get a year-end rally in everything else. But for the time being – and based on the following chart – the dollar still looks like it's going to move higher.
Take a look…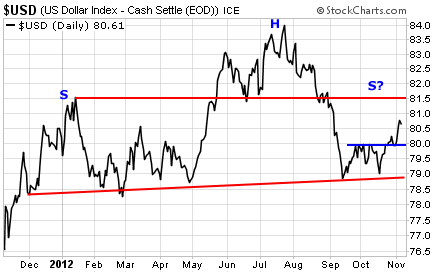 The U.S. Dollar Index doesn't have any real resistance to contend with until it rallies back up to its January high at about 81.50. That's where things start to get interesting.
You see, a rally back up to 81.50 will form the right shoulder of a bearish head-and-shoulders formation on the chart. This is a bearish chart that signals the reversal of a trend from bullish to bearish… And if it plays out, it projects a move all the way down to 74 for the Dollar Index over time.
Since most other asset classes tend to move in the opposite direction of the dollar, a drop of that magnitude would lead to a strong rally for stocks, precious metals, and commodities. This bodes well for anyone looking for a stock-market rally into the end of the year and into the first part of 2013.
But first, we have to get through a little more strength in the dollar.
Don't panic if stocks and other assets continue to fall as the Dollar Index rallies up toward resistance around 81.50. Keep the bigger picture in mind and be willing to buy into any short-term weakness. There's a dollar-inspired stock-market rally heading our way.
Best regards and good trading,
Jeff Clark
Did you know trading options can actually be safer and more profitable than buying and selling stocks? Video and plain English training guide reveals how to get started tonight. 100% free.

Download now.